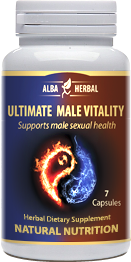 ULTIMATE MALE VITALITY
Supports male sexual health
Price: $24.95

Return Policy
At UltimateMaleVitality.com, our goal is to ensure that you are always happy with your purchase. We offer a 100% satisfaction guarantee, 14-day return policy. If you need to return a product, please review our Return Policy below and email us at: info@UltimateMaleVitality.com for a Return Authorization Number and the address where you can ship your return.
Return Policy
Unless Ultimate Male Vitality made an error, return shipping is the customer's responsibility. All items must be in their original product packaging and meet the following conditions:
Product must be new and unopened.
Product must be returned in its original packaging.
A Return Authorization Number must be included.
Please also indicate the reason for the return. (This information is not required but your comments help us improve our service and product quality.) Please note that you are responsible for the safe return of merchandise and all shipping costs.