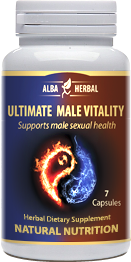 ULTIMATE MALE VITALITY
Supports male sexual health
Price: $24.95

Privacy Policy
At Alba Herbal, we respect your privacy and value our relationship with you. We collect information about you in an effort to improve your shopping experience and to communicate with you about our products, services, and promotions. Your information is collected when you make a purchase, contact us with questions, sign up for our newsletters, or provide feedback regarding our products and services.
Your information is for our internal use only. We do not share, rent, or disclose your personal information to any outside party. However, you should be aware that when you are on www.ultimatemalevitality.com, you might be directed to other sites through sponsor sites that are beyond our control. It is your responsibility to read and understand the privacy policies of any and all Web sites you visit.
Visitors/Shoppers from Outside of the U.S.
This is a U.S. Web-commerce site. This privacy policy governs the information collected at this site irrespective of where you're located when you access it, browse it, interact with it, and make purchases through it.
International Orders
If your shipment is outside the United States, you agree to the additional terms contained in this section.
If any package is returned to us because of an incorrect address, because you refuse the package, or for any other reason other than solely because of our error, you will be responsible for our shipping cost for the return and reshipment of the package.
Additionally, you are considered the importer of record for all shipments from us, and must comply with all laws and regulations of the country of destination and all laws and regulations the United States imposed of exports to that country. You agree to pay any fees, fines, or other costs charged to us or to you in connection with any non-compliance with laws and regulations of the country of destination.
If we decide to allow return of an item that has been rejected because of import or other legal compliance issues, we will refund the purchase price of the merchandise, less any charges we incurred in connection with the shipment.
We Are Committed to Protect the Safety of Children
Alba Herbal of America cares about the safety of children and the privacy of their personal information. The Web site is intended for a general audience and is not targeted to or intended for use by children under 13 years of age. Accordingly, we will not knowingly collect personal information from children under 13. If we learn that we have collected personal information from a child under the age of 13, we will delete that information from our database immediately.
Contact Us
If you have any questions or comments about this Privacy Policy, or if you would like us to update information we have about you or your preferences regarding the use of your personal information, please contact us by:
Email: info@ultimatemalevitality.com

Phone: 813-919-9320