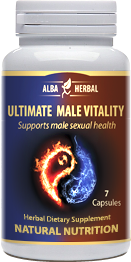 ULTIMATE MALE VITALITY
Supports male sexual health
Price: $24.95

TESTIMONIALS
I want to say that this product is phenomenal! This is by far the first natural male enhancement supplement that I've tried that has the perfect balance and is so well rounded. Not only does it do the job in the bed room, but it also enhances my entire body and provides the best energy for my late 30's body. I feel fit and energetic, I focus better, and I think more clearly. Ultimate Male Vitality is the best product that I have tried. It does the job and more. Give it a try, you have nothing to lose and EVERYTHING to gain. I highly recommend it without a doubt. -- Thuc N.

I was experiencing some sleeping problems (I took a long time falling asleep and I kept waking up during the night) and a co-worker gave me a phone number and told me to call and get some fresh royal jelly. While on the phone with a consultant, I mentioned that my husband and I have been married for 16 years and the thrill had gone out of our sex life. He sent me a sample of Ultimate Male Vitality along with my honey royal jelly. That night I took a teaspoon of the jelly and my husband took a pill of Ultimate Male Vitality. Then we sat down on the couch to watch some TV. A few minutes into it, I started touching him and WOW!!! He had an extremely hard erection in seconds. We went upstairs and for the next hours made passionate love. Both of us had the energy that we couldn't believe we would have. It felt like we were in our honeymoon phase again. I had an amazing orgasm for the first time in many years!! We made love again an hour later and again the next morning. Needless to say, everything was WONDERFUL and AMAZING.
And I had no problem falling asleep that night and wondered if it was the jelly that helped or all the sex I had but I kept up with the jelly and have been sleeping soundly! -- Nancy K.

Ever since I started taking blood pressure and diabetes medications, I noticed a distinct change in my ability to get an erection and maintain it long enough to do anything. I wanted to try Viagra but wasn't too thrilled with the side effects so I decided to look for a safe and natural herbal male enhancement supplement. Ultimate Male Vitality works like a charm and you can really count on it. It really does everything that is claimed. I have been on it for 3 months now and I seriously feel 10 years younger.
I am having the best sex of my life and my wife is ecstatic. I can't say enough about how well this product works. It is truly a remarkable product. I am a changed man. -- Earl M.

I just wanted to share this with every guy out there that taking Ultimate Male Vitality along with Velvet Antler Extract has proven extraordinary results. MUCH better than Viagra, no side effects, just great results and these are actually good for you. Even if you have just a small problem in that department, these products will get you over the "hump" and much more… I was blown away by the results. Try it and you'll know what I am talking about. -- Duc T.

After 6 months experimenting with Ultimate Male Vitality daily, I can say that I understand this product pretty well to share some key points:


Ultimate Male Vitality makes the erection harder and last longer. It gives me stronger desire but doesn't turn me on. If I am with someone I don't like, I won't get an erection. But as soon as I feel aroused, I am good to go for hours.
I've found I need to take it at least 30 minutes before sex. Not only is my erection harder, but the quantity of my orgasm and the force of it is greatly increased.
It works better when taken on an empty stomach rather than a big meal.
This product helps clear up my skin problems. I have oily skin that is prone to blackheads and acne and within a few days on this supplement, the little blackheads I have on my chin and nose started to clear up.
I do not feel sluggish in the morning or during the day like I used to. And working out is a breeze for me now.
I honestly have not experienced any side effects when taking 1 pill. 1 pill is more than enough for me but I wanted to try 2 for the experiment and my face did feel a little hot but that's about it. So always try the recommended dosage and see how it works for you first.
Do not let your partner know you're on it because she could react to it negatively.
To sum up, Ultimate Male Vitality helps me feel relaxed and in control. No performance anxiety on my part, no frustration on her part and everything is just going great. Sex is now more fulfilling than ever! -- Steven J.



Truly a miracle product and it is a dietary supplement! Definitely works and no side effects for me. Works the first day I used it and surprisingly similar results the next two days WITHOUT another pill!?? -- Jay F.


I am a 56 year old male and have suffered from ED on and off for over a year now. A very good friend of mine gave me 2 capsules of Ultimate Male Vitality to try out. I didn't think it would do much because this is ED we're talking about not stress or other psychological problems. But boy was I wrong; it was the hardest erection I have had in many years. My wife and I made love on 4 separate occasions that evening, something I have never manage since my early twenties. What amazed me more than anything was that I could do it again and again in such a short space of time. -- Jay P.


I am 40 years old. I have been married for 13 years. I am in good health. I do not have "erectile dysfunction" and have always enjoyed sex. I never really had trouble getting an erection. However, I have noticed that sometimes "it" just didn't feel big and hard as "it" used to be. I was searching for an "enhancement" product online and I found Ultimate Male Vitality. After looking at safety information, indications and side effects, I decided to give it a try.

WOW! What a difference. Erection became quicker and bigger and remained forever. Ejaculation was pushed much later and much easier to control. Ultimately Male Vitality seriously enhanced the quality of my sex life. -- Tuan T.


After careful consideration, I decided to use Ultimate Male Vitality for the first time last night. At first I did not feel anything and thought this stuff is not working. However, I was in the mood and decided to have sex with my finance. Well, let me tell you, once she started kissing me, it got me rock hard immediately and we had so much fun!! We had sex that lasted for over an hour, rested twenty minutes, and started all over again. This is something you can't put a price tag on and honestly this stuff is dirt cheap comparing to others. I am glad I chose Ultimate Male Vitality (I've ordered a few different kinds).
A side note – I am 28 years old and only had problems maintaining an erection once in a while. -- Jared W.


At 34, I am pretty satisfied with my sex life. While I have not had major difficulty in getting an erection but every now and then I can go soft and have slow response to stimulation. I've tried several different herbal formulas as well as Levitra, and Ultimate Male Vitality easily outperforms them all. With Ultimate Male Vitality, erection was immediate and remained hard the entire time. It was truly amazing, gratifying and best of all, allowed me to completely focus on making love without worrying about going soft. I highly recommend this product to all men seeking real results. -- Ashram U.


Guys listen… This is the one… I've tried several leading brands such as Viagra and Levitra. Levitra makes me dizzy and not as effective… Viagra is okay and works consistently but I sometimes have trouble with "release" if I take more than 25mg. Ultimate Male Vitality is awesome and lasted for 2-3 days. Try it, you won't regret! -- Dan N.


I have been using this product for about 9 months, and I am totally satisfied. I was prescribed Viagra and Cialis by my doctor. Since I started taking Ultimate Male Vitality, I felt it worked better for me (NO side effects, NO issues, NO worries, NO prescription or doctor visit) and the cost is significantly less. Thank you for making this product available and keep up the great work. -- Tony V.


I am the type of person that has doubts about these types of products. I just simply don't believe their claims. But I must say that this product works and probably the BEST product I have ever tried. So if you're undecided, just get the trial sample… and I guarantee you will be back for more. -- Kevin L.
I 67 old man use many pills. Friend told me Trang Duong Hoan. I use 2 week very happy 67! -- Hoang P.


This is my second bottle, this is the best product I've tried over the years. My erections are very hard now. It's been a long time since it was this hard. It also makes me feel young again. This stuff really works. -- Tai N.


I work long hours and was not able to keep up with sexual demands. Trang Duong Hoan helped me with my energy and now am always ready. My wife is very happy. -- Mr. Ba.


Ulitmate Male Vitality is the best by far and I've tried them all, there's no comparison, no joking! Other products gives you an erection that won't go away, this product doesn't have that effect on me but instead I'm only turned on when I want to be. I only took 1 capsule and it lasted me over 24 hours. I took it before lunch and did it twice that night and one more time the next morning. Hope the formula doesn't change. 5 STAR ALL THE WAY!! -- Jimmy Q.


After taking it the first day, I woke up very hard. The next night my wife said that I was different. I did not tell her that I started taking these herbs. I take it every other day. It's been 2 months now and I feel great. I have a lot more control in bed now. -- Viet H.


My husband has been feeling weak for some time now. I feel bad that he has a hard time getting up in bed. He has tried other herbal supplements before this one but they didn't work as well. A friend of his gave him 3 capsules Trang Duong Hoan to try. He asked me to order him more. I see a big different with him in bed and his attitude is much better now. Hope this helps. -- Hong T.


I'm 40 years old, this pill is great! I don't have sexual problems but wanted to give this a try. It boosted my energy level and made me wanted to do thing around the house more. I normally have a list of things to get done for the day but always fall behind on them. I now look forward to doing them and actually finish them off. My sex drive has increase and can perform better and have more control of my ejaculation. Over all, I'm very impress with this product. -- Trung N.


I took 2 capsules before dinner. It was my wife's Birthday, I was rock hard and I kept her up all night. -- Henry D.


I'm and older gentleman with border line high blood pressure. I was afraid that these types of herbs may increase my blood pressure. I took 1 capsule to see if it had any side effects. I didn't feel anything different other than being able to become aroused more easily and keeping the erection longer. -- Bob B.


I bought this for my husband after a girlfriend of mind told me about it. He's not lacking in anyway, but we both can tell that after taking Ultimate Male Vitality he became more dominate and much harder. He said that he likes the feeling more and I do too. -- Ngoc N.


My husband and I both like this product very much. We've been happily married for 37 years. We were not looking for a magical pill, but this has brought back some memories of our younger years. It's working great for us, we smile more often now. Thank you. -- Dung & Ngan H.