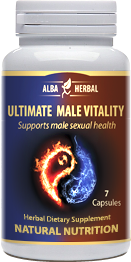 ULTIMATE MALE VITALITY
Supports male sexual health
Price: $24.95

Terms Of Use
Web Site Terms, Conditions and Notices
By accessing or using any features on Ultimatemalevitality.com, you agree to be bound by these terms of service.
Web Site Contents
Ultimatemalevitality.com and all of its materials, including, but not limited to, its software or HTML code, scripts, text, images, illustrations, designs, icons, photographs, video clips, audio and other materials (collectively, the "Contents"), are owned, controlled and licensed by Alba Herbal of America and are protected by copyright laws and other U.S. and international laws and treaties. This Web site and its Contents are intended solely for personal, non-commercial use only. You may not copy, reproduce, publish, transmit, distribute, display, post, modify, create derivative works from, sell, license or otherwise exploit this Web site or any of its Contents without our prior written permission; you may not access or use this Web Site for any competitive or commercial purpose; nor may you permit any copying of our Contents. Any unauthorized copying, alteration, distribution, transmission, display, or other use of these Contents is strictly prohibited. By using this Web site, you are advised that we may aggressively enforce the intellectual property rights to the fullest extent of the law, including the seeking of civil remedies and criminal prosecution.
User Submissions
Ultimatemalevitality.com may allow you to submit or transmit audio, video, text, or other materials (collectively, "User Submissions") to or through the Web site. When you provide User Submissions, you grant to Alba Herbal of America and its affiliate a nonexclusive, royalty-free, perpetual, worldwide, irrevocable and fully sub-licensable right to use, reproduce, modify, alter, copy, adapt, distribute, disclose, publish, remove, translate, create derivative works from, distribute and display such content throughout the world in whole or in part, in any form, media or technology, whether now known or hereafter invented, including for commercial or marketing purposes, and to use your name or likeness alone or in connection with such uses, all without any payment to or further authorization by you.
You understand that such User Submissions may be accessed and viewed by others, including by the general public, and, whether or not such User Submissions are published, Alba Herbal of America does not guarantee that User Submissions will be private, even if the User Submission is in a password-protected area. You are solely responsible for your own User Submissions and the consequences of their publication on our Web site (assuming we choose to post them once submitted). We reserve the right to determine in our sole discretion whether User Submissions are appropriate; whether they comply with our rules, standards, and applicable law. You agree that neither we nor our employees or agents will be liable for User Submissions or any loss or damage to you and any other person or entity resulting from User Submissions.
You shall not post, transmit, redistribute, upload, or promote any communications, content or materials that contain corrupted files, viruses, or any other similar software files, the intent of which is to damage the operation of another's computer; are unlawful, threatening, harassing, abusive, defamatory, invasive of privacy or publicity rights, vulgar, obscene, sexually explicit, hateful, profane, indecent, racially or ethnically derogatory that violates any law or inhibits any other user from using or enjoying the Web Site and/or our related services and products.
Links to Third Party Site
The Web site may contain links to other sites that are not operated by our company. These links are provided as a convenience to you only. We do not control and are not responsible or liable for any content, advertising, products, or other materials on or available through those Third Party Sites. None of such links should be deemed to imply that Alba Herbal of America endorses those Web sites or any content therein.
Our Products and Services
All features, indications, specifications, products and prices of products and services described on this Web site are subject to change at any time without notice. From time to time there may be information on this Web site that contains typographical errors, inaccuracies, or omissions that may relate to articles, product descriptions, pricing, and availability. We make no representation as to the completeness, accuracy, or currency of any information on this Web site. We reserve the right to make changes of any information on this Web site without notice. We reserve the right, without prior notice, to limit the order quantity on any product and/or refuse service to any customer.
Commercial Transactions
The Web site is based in the United States and all transactions on this Web site will be deemed executed in the United States. To purchase any products or services on the Site, you must (1) be at least eighteen years of age, (2) provide us with valid payment information associated with a credit card or other payment method that you are authorized to use, and (3) authorize us to charge your credit card or other payment method for the price of the products or services that you request, together with any fees, or shipping charges described on the Web site.
We stand behind the products and services that we sell. You may request any available samples to be shipped to you for free (shipping charges apply). Once you are ready to make a purchase, all sales are final, and we will not accept returns or issue refunds.
Limitation of Liability
TO THE GREATEST EXTENT PERMITTED BY APPLICABLE LAW, NEITHER ALBA HERBAL OF AMERICA NOR ITS AFFILIATES AND/OR SUPPLIERS WILL BE LIABLE TO ANY PARTY FOR ANY DIRECT, INDIRECT, INCIDENTAL, SPECIAL, CONSEQUENTIAL OR PUNITIVE DAMAGES ARISING OUT OF OR IN ANY WAY CONNECTED WITH THE USE OF THIS WEB SITE.