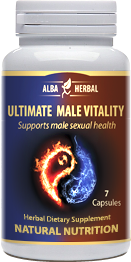 ULTIMATE MALE VITALITY
Supports male sexual health
Price: $24.95

SAFETY
A powerful herbal blend formulated with your safety in mind
Ultimate Male Vitality capsules are manufactured in a U.S. Drug Enforcement Administration regulated facility. Ultimate Male Vitality offers every adult male the safe, 100% all-natural, non-addictive, no harmful side effects, fast and effective way to achieve and maintain an optimum sexual health, vitality and overall well being.
Ultimate Male Vitality's male enhancement formula was designed to improve your sex life, everyday health, and self image forever. You and your partner deserve the ultimate sexual relationship and we recommend you use Ultimate Male Vitality as part of your health-conscious life style.
Approximately 90% of all men experience some form of sexual dysfunction in their lifetime. Prescription medications can often remedy such ailments; however the vast array of side effects can be harmful to your health.
Our herbalists have successfully combined the modern science with traditional herbal medical science to formulate the safest, most effective, and reliable male enhancement herbal supplements on the market today, created using only the highest quality (pharmaceutical grade), most effective organic medicinal herbs available.
Whether you are dealing with erectile dysfunction or a lagging libido or anything else related to pleasurable ultimate sexual satisfaction, Ultimate Male Vitality is your natural solution! Life can present many problems. Don't let erectile dysfunction become one of them. You owe it to yourself and your partner to try Ultimate Male Vitality today. It will change your sex life forever! Guaranteed.