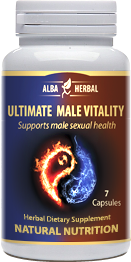 ULTIMATE MALE VITALITY
Supports male sexual health
Price: $24.95

USAGE - Enhances & Revitalizes Sexual Health
Protect your love life with Ultimate Male Vitality
Enhances sexual drive, performance and stamina.
Increases blood flow for firmer, larger and longer lasting erections.
Promotes healthy testosterone levels.
Prevents premature ejaculation and supports healthy erectile functions.
Supports prostate function, reduces stress, improves energy and increases vitality.
Achieves optimum male sexual health and well-being.
100% all-natural ingredientswith no harmful side effects.
Fast acting, in just 30-45 minutes!
A powerful natural blend, Ultimate Male Vitality is safe, non-addictive and contains 100% all-natural ingredients with no harmful side effects.
Directions: Take 1 capsule 30-45 minutes prior to sexual activity for immediate results or take 1 capsule daily for its long term benefits.